Leisure Activities
Zagreb and its surroundings offer a great variety of sports and leisure activities for anybody's taste. If you like spending time in nature, try Medvednica Mountain, which extends just above the city. It is a favourite excursion area for the city people not only because of its protected nature but also because of a dozen cosy restaurants situated on its slopes serving tasty and inexpensive domestic food. Medvednica is equally popular in winter when it turns into the biggest ski-centre in Croatia. Apart from having a mountain nearby, Zagreb can equally boast of its own "Zagreb sea", the Jarun Sports and Recreation Centre comprised of a number of lakes and an impressive rowing course. If, on the other hand, you prefer indoor sports try the sports centres "Mladost", "SRC Šalata", "Dom Športova" etc.
Taking part in and following sports is a passion with Croatians and many Croatian sports people and coaches have a world reputation.
Eating Out
Zagreb offers a great variety of cuisine. There are many restaurants with national as well as international food. They vary in prices but are generally quite pleasant. Zagreb Restaurant Guide can be found at the following link http://www.inyourpocket.com/croatia/city/zagreb.html .
Culture and Entertainment 
Zagreb is the cultural centre of Croatia. There are 15 theatres, a dozen concert halls and numerous cinemas. Zagreb is also a European centre for modern and alternative movements in culture. The well-known music Zagreb Bienial Eurokaz Festival of New Theatre, the Contemporary Dance and Performance Week of Zagreb Artists, Zagreb Film Festival are all important parts of the European cultural scene.
Zagreb is proud of its many galleries and museums where you can find or even purchase diverse works of art.
Young people have plenty of opportunities for entertainment. There are many discos, pubs and cafés where one can dance the night away or just have a nice cup of coffee with a friend.
Nightlife
Croatia's party city is without a doubt Zagreb. It has a limitless supply of bars, cafés, pubs and night-clubs suitable for all tastes. You have the Upper Town with the sinuous, bar-lined Tkalciceva street and the Lower Town with Bogoviceva and Trg Preradovica plus the Branimir Centre across from the train station. Then you have Out-of-Town down by Jarun Lake and south of the Sava river (where a car is most convenient). For the most part, the vibe is pretty relaxed in Zagreb clubs. Ruthlessly selective door policies and watery cocktails have not yet made inroads onto the scene. There are a few clubs where you're expected to show up in movie-star fashion but they are a definite exception. The cover runs from about 30 to 50HRK. Drinks are about the same.
If you want to find out what's on? and where? visite the web site of the ZAGREB - In Your Pocket Guide.
Picture of croatia

Krka Waterfalls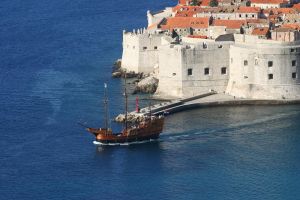 Dubrovnik City